Welcome to MDpocket!
Please login or register and get access to your personal account with orders, wishlist and other settings.
New Customer? Start Here
0
$0.00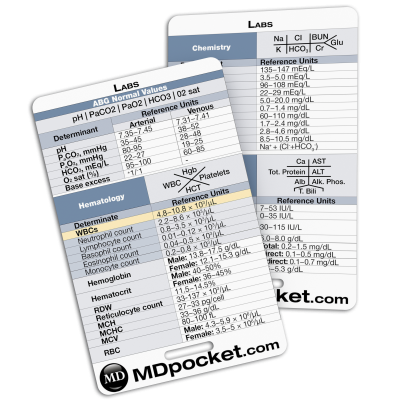 Showing 1 to 6 of 6 (1 Pages)
Rapid ID - Body Planes & Sepsis Need a quick reference for SIRS and Sepsis? Our Rapid I..
Rapid ID - CHADS he quickest way to assess patients for the use of anticoagulat..
Rapid ID - Dermatomes Need a quick Dermatome reference guide? Our Rapid ID cards are the mo..
Rapid ID – Labs Reference all your daily labs with this Rapid ID card containing..
Rapid ID - Pain Scale and Conversions Our Rapid ID cards are designed to provide all health..
Rapid ID - Sepsis & RASS The quickest way to reference early signs of Sepsis and have t..
Showing 1 to 6 of 6 (1 Pages)