www.mdpocket.com
MDpocket.com specializes in provide the best pocket medical references, calipers, and clipboards for all healthcare professionals. Our line of products are specifically identified by our brand names MDpocket and WhiteCoat Clipboards with distribution to all major medical bookstores throughout the United States and Canada. Our online store provides students and professionals in healthcare a unique place to shop for great pocket gear to make them more efficient in their daily routine while taking care of patients.
MDpocket.com also specializes in providing customized solutions for many of its products to medical and healthcare organizations.


www.mednfo.com
MedInfo, Inc. (owner of MDpocket.com) has published professional academic books and reference guides in the field of medicine since 2005. Our publications include all medical specialties and subspecialties with an emphasis on educating all healthcare professionals including students, residents, and nurses. We specialize in providing customized references for programs, schools, residencies, and universities that educate our future healthcare providers.
MedInfo, Inc. owns trademarks for the medical reference line of pocket books known as MDpocket®, DOpocket®, and NPpocket®. Each reference guide is specialized for the respective field of medicine and includes the medical information used daily by today's healthcare professionals. Our success has been supported by numerous students throughout the country who provide us with direct feedback and future direction to ultimately produce high quality quick medical reference guides. Our pocket references can be found in all major medical bookstores throughout the United States as well as via our website.
MedInfo, Inc. has other interests in supplying the best pocket medical equipment to improve its customers' efficiency and productivity. MedInfo, Inc. currently owns a number of patents for the WhiteCoat Clipboard line of folding clipboards carried by thousands of allied and medical practitioners throughout the world.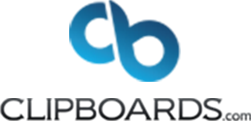 www.clipboards.com
MedInfo, Inc. has grown to incorporate many different lines of clipboards based on its success with WhiteCoat Clipboards. Clipboards.com provides hundreds of different clipboard sizes, shapes, types, as well as accessories for anyone needing a solid writing surface.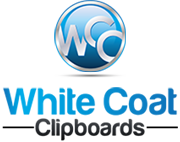 www.whitecoatclipboards.com
WhiteCoat Clipboards are patented folding medical clipboards used by all healthcare professionals to keep information secure and HIPAA compliant. Designed to fit most scrub pockets and white coats, these clipboards are ideal for all patient care needs. WhiteCoat Clipboards have multiple medical reference labels to choose from for many different specialties and subspecialties that included nursing, anesthesia, pediatrics, pharmacy, EMT, nursing, physical therapy, occupational therapy, and general medicine.
Interest
MedInfo, Inc. is interested in publishing books and reference guides that aid in the learning and education of all healthcare students and medical professionals. Our primary goal is to produce the most useful medical information vital to the continued growth of our customers. Our books and reference guides have helped thousands of students grow into their respective careers by providing a solid foundation of knowledge in an accessible format.
Areas of Interest
Medical Student Education
Resident Training Education (Medicine, Osteopathic, Pharmacy)
Fellowship Training Education (all medical subspecialties)
Nursing Student Training Education
Nurse Practitioner Education
Nurse Continuing Education
Physician Continuing Medical Education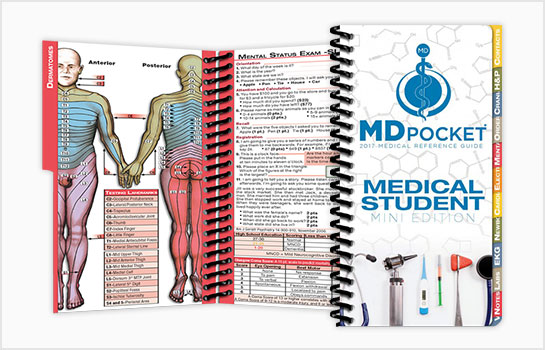 Medical Students
---
MDpocket Medical Reference Guides provide students with all the basics for learning how to take care of patients. This reference is packed with the most daily used medical information used by today's students and includes quick and easy ways for students to learn on the go.
Residents
---
MDpocket Resident Edition combines pocket medical information for todays training physicians. Easy to carry and packed full of procedures and treatment guidelines, these must have pocket reference are ideal for patient care.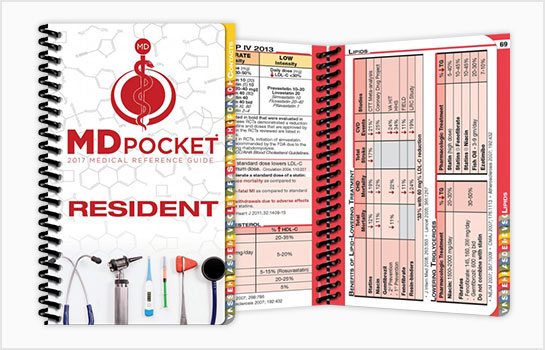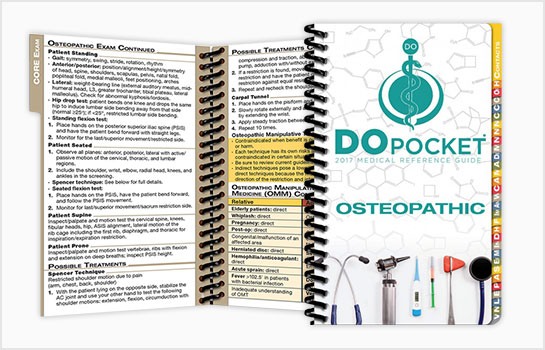 Osteopathic
---
DOpocket is a comprehensive pocket medical reference guide specifically designed to meet the demands of all osteopathic students and residents on rotation. This pocket medical reference focuses on osteopathic principles with diagnosis, treatment, and medications guidelines used by today's healthcare students/professionals and is guaranteed to improve your efficiency while taking care of patients. DOpocket merges the MDpocket student and resident books with modifications to fit the needs of all osteopathic students, interns, and residents.
Nursing
---
NPpocket contains day-to-day medical information used by healthcare professionals (nurses, nursing assistants, nurse practitioners, certified nursing and medical assistants). You'll find medical information on catheter selection, diets, fluids, insulin, mental status exams, injections and much more. The tabbed index of medical information makes this pocket guide a great resource for all who carry it. Add extra notes or pocket pages to carry lists, phones, pager or other small documents.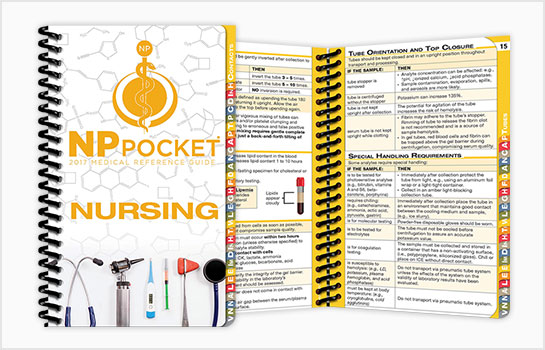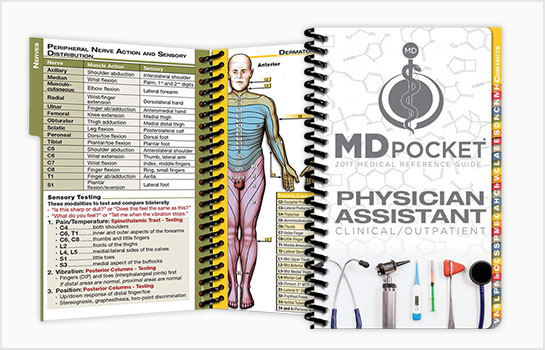 Physician Assistants
---
The Clinical/Outpatient Physician Assistant guide from MDpocket contains detailed pocket medical information for PAs working in clinics or outpatient settings. This compact pocket-size reference has information on writing and performing Physical Exams, assessing cardiac murmurs, cranial and peripheral nerves, strength testing, dermatome areas, EKG and CXR interpretation, stress testing, evaluating acute coronary syndromes, hypertension treatment, statin therapy, diabetes management and much more. This pocket reference provides over 100 pages of vital day-to-day medical treatments, management and workup specifically for a Physician Assistant or Physician Assistant Students.
Customized Medical References

MDpocket Medical Reference Guides combine an accessible format and a compact design for today's healthcare professional. Our guides provide accurate and up-to-date medical information to help better prepare your students to provide high quality and efficient patient care.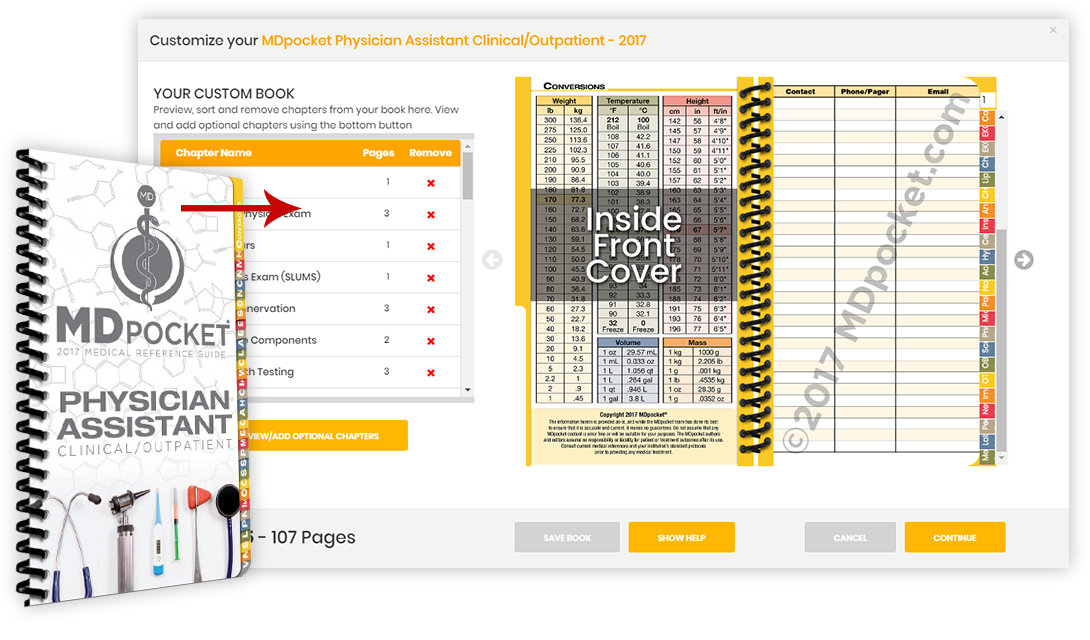 We can customize other products on MDpocket.com such as clipboards, cards, Rapid IDs. Call us to get started.
Minimum of 5 customized books for all orders
We can customize other products on MDpocket.com such as clipboards, cards, Rapid IDs. Call us to get started.
Minimum of 5 customized books for all orders
We can customize other products on MDpocket.com such as clipboards, cards, Rapid IDs. Call us to get started.
Minimum of 5 customized books for all orders